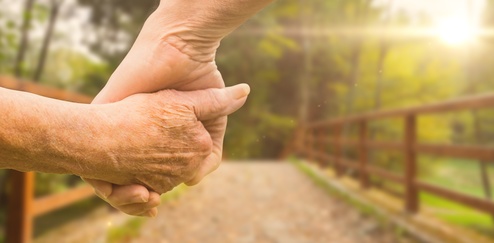 What Would Mary Do?
I had only dim memories of meeting Mary Vargas, but her children had been present for most of my childhood. Adrian had been like a brother to me, and Maria was my older sister's best friend. I intimately comprehended the crushing emotions associated with losing a parent. As I sat surrounded by her loved ones, I prepared myself for what was sure to be an emotional morning.
The large screen at the front of the sanctuary flashed images of Mary and her family. I smiled at the video of Mary and her husband of 54 years, Carlos, displaying their passion for dance. A Celebration of Life would be the purpose for our gathering. Pastor Glen Lee painted a picture of a woman of faith that lavishly poured out her love on others. As the perfect hostess, she did more than serve delicious meals to her guests. She nourished your soul with words of comfort and encouragement. Several people shared the image of Mary taking their face in her hands, looking them directly in the eyes, and speaking transformative messages. Her children proclaimed the values that had been instilled in each of them by the matriarch of the family. Her granddaughter, Alina, used her angelic voice to lift our spirits. During her final days here on earth, Mary shared that she had NO regrets. She could rest easy comforted by the knowledge that she had lived out her faith and walked in love.
How do you want your story to unfold? I fear that my pile of regrets continues to grow, as I react to the forever changing landscape of this complicated world. My intentions are quickly abandoned in the face of a new obstacle or hardship. As the months turn into years, I question…How did I end up here? I easily play the the part of the victim somehow forced to travel roads not of my choosing. My spirit desires nothing more than to be like Mary Vargas… A woman that intentionally used her gifts to powerfully impact people. I will no doubt stumble as I begin this new way of traveling. In those moments, I offer up a whispered prayer…What would Mary do? She will take my face in her hands and impart the divine wisdom I so desperately need.
Who is it that you are called to serve in this day?
How can you connect with the individuals that are placed in your world?
What will be your legacy as others gather to celebrate your life?